SafetyPosterShop.com supplies ready-to-print safety posters that you can download. You can print them at your local print-shop and reproduce them as many as you need. All the graphics are created by our in-house graphic designers, so you don't have to to worry about copyright infringement issue. All the posters were created based on the health and safety guidelines issued by OSHA, HSE, and other health and safety institutions, and also from several safety products manufactures. You can use them as wall posters or as handouts (or both).
Our posters have been used by companies, organizations, and governments in 72 countries worldwide to increase safety awareness among their staff and workers.
*based on buyers data per December 2019
All the posters designed by SafetyPosterShop.com have these features :
BOLD & SIMPLE
We use bold, simple graphics with a clean layout, to ensure the information is easily perceived by the eyes and understood by everyone.
TO THE POINT MESSAGES
We apply direct, simple messages, as we realize that workers who read the safety posters may come from different places and cultures. So there is no second guessing, no miss-interpretation, and no deep thinking to be able to understand the messages.
SCALABLE VECTOR FILE
All the posters are created in vector image type and saved in PDF file. That means, you can scale it up to a billboard size and still retain the same, sharp image quality as the one in A2 size. By using the vector image, you'll get the maximum flexibility to apply it on any media size without worrying about the image resolution issue.
READY TO PRINT
All the posters come in a standard size of A2  ( 420 x 594 mm, or 23.4 x 16.5 inch ). They can be downsized to A3, A4, or upsized to A1 or A0 proportionally. These sizes fit the international standard print paper size. And all the posters are printable by using digital printer, plotter or offset printer.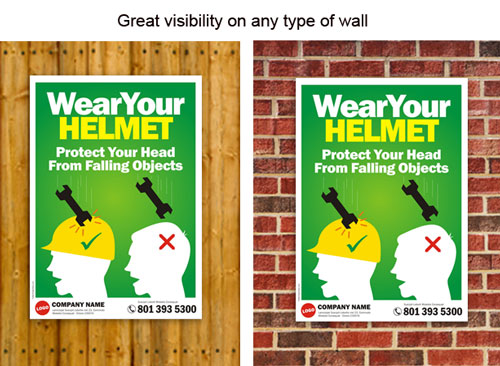 Beside the ready-to-use safety posters, we also provide additional services :
YOUR LOGO AND COMPANY NAME ON IT
Do you want your logo and company name on the posters ?
Sure you can ! With just a small additional fee, we will help you put company name, logo, contact numbers, or any other information on the posters. Go here for details.
CUSTOM DESIGN AVAILABLE
You need a custom design poster? We can help you too. We will create a new, fresh design to suit your specific need. Click here for details.
For more details on poster usage please read the Terms of Use.
New artworks are added regularly every week.
If you don't find what you're looking for, or come up with an idea, don't hesitate to send us your suggestion as we may put it in our next-to-do list.
And remember, the posters are only reminders of how to deal with the health and safety issues at workplace, they do not replace training and hands-on experience.